THE RIGHT COMPANY, THE RIGHT PEOPLE, THE RIGHT CHOICE, THE RIGHT PRICE
With over 10 years' of experience caring for home roofs and gutters, we are passionate about caring for your home. As a family owned business, we love working with families and on home roofing and gutter replacement projects.
Licensed, Bonded & Insured. License #ALLACAR824LK
Roof Replacement Seattle
Re-roofing or roof maintenance is a less expensive alternative to full roof replacement, which is why many property owners are choosing regular roof maintenance over complete roof replacement.
Re-roofing your home in the Seattle, WA area involves installation of new shingles over the existing ones. We always provide you with an honest assessment of the work needed for re-roofing your home.
Looking for experts to perform quality roof replacement and cleaning? You are at the right place. All Access Roofing and Gutters is a family owned and operated roofing company known for re-roofing homes around the Seattle area.
Our certified technicians are skilled in re-roofing your home and complete the task within budget and the estimated time frame.
Why hire us for re-roofing your home?
Reasonable rates
Certified technicians
Fully insured and licensed
100% customer satisfaction
Roofing Repair Seattle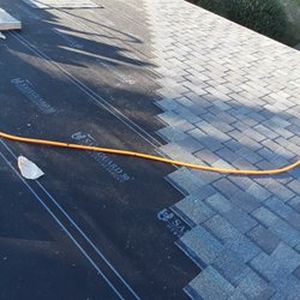 Do you need your roofing repair or roof cleaning services in the Seattle area? Does your roofing look a lot older than it actually is? With our roof cleaning services, we return the moss covered, stained roof back to its original style.
Our roof cleaning services involve the use of latest roof cleaning and moss removal equipment to remove moss, dirt, and other debris that has built up on the roof. After roof cleaning services, we also perform roof repairs.
Advantages of roofing repair:
Saves money
Prevents leaks
Extends the life of your roof
Could provide tax benefits
For roof cleaning services around the Seattle area, call us today!
Seattle Roof Cleaning
Climbing on roofs is risky without proper training and the right safety equipment. It is always better to hire professionals for roof cleaning services, installation, or maintenance.
Our team in Seattle has the training and experience to ensure professional quality cleaning without the safety risks.
Advantages of professional roof cleaning:
Enhanced curb appeal
Increased energy efficiency
Decreases the chances of clogged gutters
Whether you are looking for commercial roof maintenance or need a full roof replacement for your home, we are here to help.
Call our roofing professionals today and discover what our team of experienced and dedicated roofing experts can do for you.
Re-roofing your home in the Seattle area is easier today with our quality roofing materials and services. Call All Access Roofing and Gutters at (206) 231-5698 and let our roofing professionals help with your roofing project. You will be glad you did!
Quality Roof Replacement
Replacing your roof is a major home improvement project. For roof replacements in the Seattle, WA area, you have come to the right place. All Access Roofing and Gutters are professional and fully-licensed roofers.
Quality Gutter Replacement Seattle
Looking for a reputable gutter replacement and cleaning around Seattle, WA? All Access Roofing and Gutters is a natural choice for gutter cleaning and has over a decade of experience in offering gutter and downspout replacements in the Seattle area.
Quality Moss Removal Will Protect the Life of Your Roof Seattle
Our quality moss removal in the Seattle, WA area will protect the life of your roof. Call All Access Roofing and Gutters to get satisfactory moss removal services. Moss is nothing but unwanted growth on your roof.
Pressure Washing & Driveway Cleaning in Seattle
Are you looking for a pressure washing service in the Seattle, WA area? Get in touch with All Access Roofing & Gutters LLC. Our washing and driveway cleaning is carried out by a well-trained professional team.