Lynnwood Roof
The roofing system of your home is its first line of defense against the elements. It is also a barrier to the entry of intruders and pests into the house. That is why it is important to ensure that your property has a sturdy and water-tight roofing system that is always maintained in good condition.
The best way to do this is by hiring a competent and experienced roof contractor in the Lynnwood, WA area to meet all your roofing needs. No matter how fond you might be of DIY projects, working on the roofing system is something that is best left to seasoned professionals.
All Access Roofing and Gutters is the name to rely on when it is time to hire a roof contractor in Lynnwood. We offer comprehensive services that include:
Reroofing
Damaged roof repair
Roof cleaning
Lynnwood Roof Repair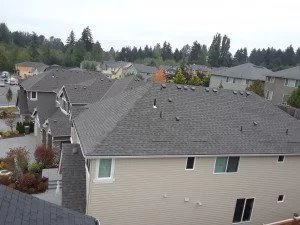 Timely cleaning, as well as proper maintenance, go a long way in preserving the beauty, efficiency, and reliability of your roofing system. Still, it will eventually start showing the adverse effects of aging and year-long weather conditions.
The need for roof repair can sometimes also arise because of the use of below-par roofing materials during installation of the system. It is advisable to look for signs of roof deterioration and bring in our technicians at the first signs of deterioration to handle the roof repair on your Lynnwood area home.
Calling us brings you the satisfaction of working with one of the most reputable and trusted local roof repair contractors. You can depend on us to:
Honest communication about the condition of the roof
Deliver extremely professional services
Provide lasting repair solutions
Keep roof repair cost to the minimum
Lynnwood Roof Contractor
Your choice of a roof contractor for installing, replacing, cleaning or repairing your roofing system has a major impact on the safety of your property as well as that of loved ones. Your hard-earned money is put to good use when the capabilities of the roof contractor meet your high expectations.
Choosing us as your roof contractor in the Lynnwood area will guarantee an excellent return on your investment. Being a family owned and operated roofing company that is also licensed, bonded, and insured, we offer you the benefits of:
Professional quality work on your project
Customer-friendly attitude
Total protection all through the job
Make All Access Roofing and Gutters your first call for roof repair and replacement in the Lynnwood area. Call (206) 231-5698 to schedule your job.